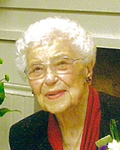 November 20, 1912 – November 8, 2013
at the age of 100 years
Celebration of life:  Saturday, Nov. 23, 2013 at 1:00 p.m., Fischer's Funeral Services in Salmon Arm.
It is with great sadness that we announce the passing of our beloved mother, nana and friend, Ellen Amos on Nov. 8, 2013 in Salmon Arm, BC at the age of 100 years.
Ellen was born November 20, 1912 in Edmonton, AB.
She married Stan Amos in 1934 and from their loving relationship one child, a daughter, Verna was born.
Ellen was predeceased by her husband Stan and her only brother Cyril in 1952.
She is survived by her loving daughter Verna (John) Jones, grandson Gordon (Debra), granddaughter Karen Ellen Norum and great grandchildren Allyssa and Brandon Jones.
In 1927 Ellen attended Calgary Tech (now S.A.I.T.), graduating with a diploma in tailoring, dressmaking and hat making.
After a short employment as a teacher with Singer Sewing Machines, she worked for the Hudson Bay Fabric Department until her retirement in 1977.
Ellen was an active member of the O.E.S. until her death.  She was also a longstanding volunteer in the Royal Alexander Hospital gift shop in Edmonton.
Ellen moved to Salmon Arm in 2002 to be closer to her family.
In lieu of flowers, donations in Ellen's memory may be made to the Salmon Arm Food Bank, Box 505, Salmon Arm, BC, V1E 4N6.