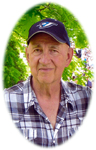 January 25, 1942 – May 30, 2015
at the age of 73 years
Celebration of life will be held at the Shaw Community Centre Auditorium in Salmon Arm, BC on Sunday June 14, 2015 at 2:00 pm.
It is with sad hearts we announce the passing of Dale Ashley on May 30, 2015 at Bastion Place, Salmon Arm, BC, after losing his battle with Brain Cancer at the age of 73 years. Dale was predeceased by his parents Melville and Marian Ashley. Dale will be missed and lovingly remembered by his wife Judi, his 4 legged partner in crime Kirby, his children Michael (Jessica) Ashley of Kelowna BC, Sandra (Scott) Ashley/Rioux of Saanich, BC, step children Scott (Sabine) Oikle/Huber of Corbyville, ON, David (Niki) Oikle of Salmon Arm, BC, Sherri (Shane) Rozsas of Vernon, BC, grandchildren, Andrew, Adam, Sebastion, Mackenzie, Samantha, Danica and Emily. He also leaves behind his brothers Barry (Janice) Ashley and Wayne (Marina) Ashley, the mother of his children Lana (Gary) Coy, mother in Law Shirley Fisher, sister in law Joanne (Paul) Schneider, niece and goddaughter Darcy (Wayne) Muir, nephew Gary (Debbie) Ashley, nieces Vicki Duncan and Cyndi (Clark), great nephews Mac and Jamie and great nieces Lindsay (Jordan), Kendra, Ceiligh (Chad), and Teena, great great nephew Wyatt, great great niece Jacquline and many, many cousins in Merritt and Princeton.
Born Jan 25, 1942 and raised in Penticton BC leaving there to move to Salmon Arm in 1994. Always a great talker, Dale excelled in Sales of all types. He loved his hunting in younger years but was always ready for a fishing trip. Hockey and Baseball were his passion. Family gatherings were always memorable, as were card and board games. He will be missed by all of his wonderful friends and the stories they shared.
A celebration of life will be held at the Salmon Arm Savings and Credit Union Community Centre Auditorium in Salmon Arm, BC on Sunday June 14, 2015 at 2:00 pm.
Special thanks to Dr's Keith and Laura Hepburn of Salmon Arm BC, Dr Chevalier of Kamloops BC and Dr Germaine, Oncologist of Kelowna BC.
Many, many thanks to the first floor care aids, nursing staff, kitchen staff and housekeeping staff at Bastion Place for your loving care and special attention given to Dale and myself. You were always there for us.
In lieu of flowers, donations to Bastion Place in Salmon Arm are welcomed.