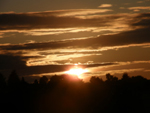 January 3, 1929 – September 20, 2013
at the age of 84 years
With sadness we announce the passing of Walter Bashucki at the age of 84 at Salmon Arm B.C. on September 20th 2013.
Walter was born in Zborow, Poland and came to Canada with his parents when he was just two years old.  Walter grew up in Montreal and joined Trans Canada Airlines (now Air Canada) in 1945 and began his career in airline maintenance as an electrician.  When he retired from Air Canada in 1977 he applied for his private pilot license and enjoyed 25 years of flying his Cessna 172.
Walter is survived by his wife of 53 years Carole, and his daughter Helena (McGowin) and two granddaughters Synthia and Patricia.
There will be no service at the request of the deceased.
In lieu of flowers donations may be made to the charity of your choice.