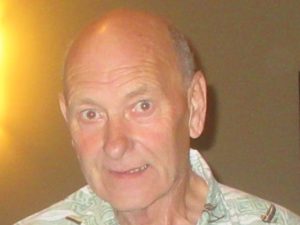 November 19, 1946 – November 9, 2017
at the age of 70 years
Bill passed away peacefully with family by his side after fighting a strong and courageous battle with cancer. He is predeceased by; his dad Frank, mom Margaret (Eric, Mike) and sister Val (survived by Roger). He is survived by his loving wife Glenna, daughters Shelley, Kari, and son Mitch (Terra), Brothers Fred (Beth), George (Deanna) and numerous nieces and nephews who will all lovingly cherish his memory.
Bill and Glenna met through a radio station dating line and made an instant connection. They shared a life together for 19 years and enjoyed many special moments and making memories. They loved road trips together, often holding hands along the drive and enjoying the beauty of BC. Bill and Glenna retired to Chase in 2013 where their adventures continued. Bill and his sidekick Jody (dog) and close friend Paul would often travel the back roads. Loved ones were important to Bill and he was happy to host Barbeques for them, he was known for his oversized "Bill sized" portions of dessert.
Bill was a hardworking, humble man, who was always on the go and never hesitated to lend a helping hand. He would often joke with others who were left scratching their heads as to whether or not he was serious, though showing his dimple was a sure sign he was teasing. Bill was a caring and devoted husband to Glenna, a loving dad, brother and friend. We are all blessed to have known him and will always hold him in our hearts. Though we will miss him dearly we take comfort in knowing he is on a new adventure "always waiting to see what's around the next bend".
We will be holding a celebration of life in the early spring.