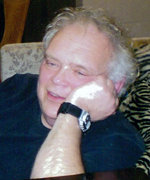 March 13, 1949 – January 29, 2015
at the age of 65 years
Patrick Ross Blanchard passed on Thursday January 29, 2015 at age 65 in Shuswap Lake General Hospital, Salmon Arm. Pat was born March 13, 1949 in Midland, Ontario.
As a young man, he worked as a geo technician for Inco in field exploration. After living and working in BC, Saskatchewan, and Ontario, Pat and his family settled in the Salmon Arm area in 1998 where he worked with family at Hucul Printing. Pat loved to go huckleberry picking and hiking to old mine sites with his boys and their dog, Tricia. He will be lovingly remembered for his great humour, humble disposition and gentle personality.
Pat is survived by the loves of his life, wife, Camellia, his sons, Matthew (Salmon Arm), Sean (Sicamous), Ryan (Canoe), Benjamin and his wife Stevie (Olsson) of Calgary, brother Duane Blanchard and his partner Joan Leatherdale (Dundas), brother Tim Blanchard (Penatanguishene), sister -in – law Muriel Lowe-Blanchard (Barrie), and their children. Pat was predeceased by his mother Ann (Hucul), his father Sydney, and his brother Dale.
At Pat's request there was no service but family and friends gathered at their home to celebrate his life.
The family would like to thank the many caring nurses and doctors who have worked with Pat over the years. In lieu of flowers, donations may be made in Pat's memory to the Heart and Stroke Foundation.