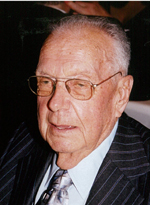 March 22, 1921 – August 27, 2015
at the age of 94 years
George passed away peacefully at Mount Ida Mews in Salmon Arm at the age of 94 years.
Papa George, as he was affectionately called, was predeceased by his loving wife Kay (Catherine) in 2005. He will be fondly remembered by his two sons Gerry (Lynda) and Terry (Denise); many grandchildren and great grandchildren, his sisters; Mary, Dorothy and June as well as numerous nieces and nephews.
George was born and raised in Enderby and had to leave school with only eight years of education. Later in his career in the dairy industry he earned his boilermakers certificate as well as cheese maker, butter maker and tester of dairy products. He worked for Salmon Arm Dairy which became S.O.D.I.C.A. which then became NOCA and then Dairyland for 40 years, mostly in a manager position, he ran the Salmon Arm plant.
George also became an electrician and plumber which skills he used to build several homes in his spare time.
In retirement mom and dad became snowbirds and enjoyed 13 years in Yuma, Arizona with friends.
George's passion was beekeeping – they were his other children. He also enjoyed hunting, fishing and doing jigsaw puzzles.
Many thanks to the caregivers at Mount Ida Mews where he received excellent care. A private family service will be held at a later date.