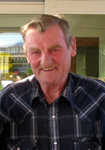 July 13, 1938 – July 31, 2012
at the age of 74 years
Matt Boser passed peacefully in Vernon on July 31, 2012 at the age of 74. Matt was born at Unity, SK on July 13, 1938 to Joe and Annie Boser. Matt was the 2nd youngest of 17 children. He worked construction for most of his working life until he retired at the age of 65. He is survived by his children Brian (Aleida) Boser and his children Keegan Lesser, Jamie Boser and step-daughter, Korina Gomez; Bernadette (Tiago) Moreira and their children Simon and Christian; Rodney (Janice Papaianni) Boser and their child Jarod. He is also survived by his sisters Betty (Karl) Kist and Madeline (Lloyd) Riddell; his brothers Val Boser, Gabe (Virgina) Boser & George (Leah) Boser; as well as many sister-in-laws, brother-in-laws, nieces and nephews. Matt was predeceased by his parents, numerous siblings, in-laws, nieces and nephews. As per Matt's wishes, he will be cremated and there will be no service. There will be a Memorial Tea to remember him and celebrate his life at St. Mary's Hall (211 Avenue O South) in Saskatoon, SK on Friday, August 17, 2012 from 1 – 4pm. Casual attire. In lieu of flowers, donations can be made in memory of Matt to a charity of your choice.