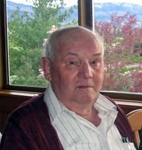 May 31, 1922 – April 5, 2017
at the age of 94 years
It's with heavy hearts we announce the passing of Asmus (Amos) Brodersen on April 5th, 2017. He was surrounded by loving family in Kelowna, BC.
Asmus was born in Felsted, Denmark to parents Katrine Soll and Jens Peter Brodersen. At the age of 27 years old, Asmus traveled to Canada with only a few dollars to his name. Asmus moved to Vancouver, BC building houses before settling the interior of BC. Asmus ran the McLure ferry service for 22 years and was a master carpenter, who could be found in his workshop building everything from beautiful handcrafted grandfather clocks to his famous rat traps.
Asmus was also an avid outdoorsman who loved fishing at Allan Lake, hunting, gardening, and camping. Two of his favorite memories were trips he took from California to Virginia with his close relatives Pearl and Tony Golia and an amazing road trip from Kamloops to Alaska.
Asmus was predeceased by his parents Jens and Katrine, and his brothers Hans and Karl. He is survived by his loving partner Christina Walsh, his step-children Vivian, Raymond (Marlene), Louise, Keith and Elaine (Robert). He is also survived by 13 grandchildren and their spouses, 21 great-grandchildren and 7 great-great –grandchildren. Asmus and his sense of humour will be missed dearly by all his family and friends.