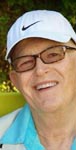 November 15, 1942 – February 23, 2015
at the age of 72 years

Celebration of LIfe:  Tuesday, March 10, 2015, 2:00 p.m., Fischer's Funeral Services
Brian was born November 15, 1942 and ended his journey in Kelowna Hospital surrounded by his special family on February 23, 2015. Much loved husband, father and Papa.
Predeceased by parents Gordon and Helen Cutting and brother David.
Brian was a 27 year Veteran of the RCMP, retiring from the force and moving to the Shuswap in 1991 and enjoying life on the lake, spending time with his grandchildren. He then worked with School District 83, enjoying 10 years of driving his school bus with his "Shuswap kids". Upon full retirement, he kept busy while enjoying his winter home in Arizona.
He will be sadly missed by his wife Kathy, children Tracy (Paul), Darin, Krista (Bob) and grandchildren Jason, Shannon, Aidan, Josh, Stephanie, countless extended family and friends and of course his grand dog, Baxter.
A remembrance will be held in his honor on Tuesday March 10, 2015 at 2pm at Fischer's Funeral Home in Salmon Arm.
The family expresses their thanks to Dr. Breugem. Memorial donations can be made to the Shuswap Lake Hospital, c/o Shuswap Lake Health Foundation, Box 265 Salmon Arm, BC V1E 4N3.