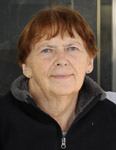 August 27, 1940 – November 20, 2014
at the age of 74 years
Funeral services will be held Thursday, November 27, at the Church of Jesus Christ of Latter Day Saints, 1400 – 20th St. NE, Salmon Arm, BC, at 11:00 am.
With courage and faith Janice Merdean Daughton succumbed to cancer at the age of 74 with loved ones by her side.
Janice was born at St. Rose De Lac, Manitoba, to Hazel and Robert Harrison. She was the oldest of 3 children. Janice grew up on a farm and enjoyed the companionship of lots of extended family during those years.
At 11 years of age her family moved to Terrace Bay, ON. They moved to Hinton, AB, when Janice was 16. There she finished school and became a nurse's aide. It was here that she met and married her husband Douglas Daughton. Together they raised a family of 3 children. After 35 years in Hinton, Janice and Doug retired to Sunny Brae, BC, where she lived out her life taking great pleasure in having family and friends gather in her home and yard to play and visit.
Family was always very important to Janice. At this time of her passing, her family cherishes the memories of her devotion to her family and the efforts she took to keep her family close. Her faith, kindness, and personal example were a loving force in their lives and will continue to be so.
Janice was predeceased by her husband of 52 years, Douglas Daughton. She will be sadly missed by her children: Carrie Callihoo (Calvin), Rhonda Kicia (Ken), Shane Daughton (Tanya); 12 grandchildren and 81/2 great-grandchildren; as well as her brother Phil Harrison (Elaine) and her sister Brenda Harrison.
Many thanks to the members of the Church of Jesus Christ of Latter Day Saints and to Joan and Chris Clark for their tremendous love and support.
In lieu of flowers donations may be made to the Canadian Cancer Society.