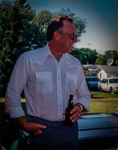 January 5, 1945 – April 13, 2017
at the age of 72 years
A celebration of life will be held on Friday, April 21st, 2017 at 2:00 pm at the Sorrento Hall.
It is with the deepest of sorrows that we announce the passing of Ray at the age of 72 years.
Predeceased by his parents, Ed and Ruth, sister Darlene and wife Stella, Ray leaves behind his loving wife of 43 years, Donna, daughters Christina and Deanna (Joe), grandchildren Taylor, Owain and Matthew brothers Bill (Robin), Don (Leslie), Dale (Zoe) and many nieces, nephews, cousins and friends.
Born in Victoria in 1945, near the end of World War II, Ray was the second child to Ed and Ruth. Ruth and the family returned to the homestead of Charles and Edith Doebert in Blind Bay, Ed following after his service in the Royal Canadian Army was fulfilled. Shortly after, they homesteaded in Sorrento on the site of the present day Sorrento Shopping Centre. Ray enlisted in the Royal Canadian Airforce in 1954 and served in Cold Lake, Alberta and Montreal, Quebec. Upon discharge he returned to his roots and remained in Sorrento his entire life working for Adams Lake Lumber for 30 years.
Ray had a big heart and was a warm and caring husband, father, grandfather and friend. His easy smile and sense of humour always made his guests feel welcome. He loved his dogs, fishing and any reason for a gathering.
Donations in Ray's memory can be made to the Make-A-Wish Canada www.makeawish.ca