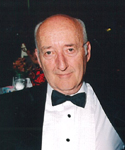 February 5, 1934 – April 27, 2012
at the age of 78 years
Celebration of Life:  Wednesday, May 02, 2012     1:00 p.m.
Fischer's Funeral Services
It is with great sadness we announcing that Alan Farnham of Salmon Arm,British Columbia, passed away peacefully on Friday, April 27, 2012 at the age of 78.  Alan was born in Windsor, Ontario on February 5, 1934.  He is predeceased by his parents, Orlo and Jean Farnham, and his sister, Lynn Stafford.  Alan is survived by his beloved wife Maureen, daughters Kelly Farnham (Brian), Tanya Bushell (Rob), Nicole Dent (Jay) and Kelly Woodward (Jerry), six grandchildren, sister Margo Pastovich, brother Garth Farnham, nieces and nephews Dina Pastovich, Marnie Pastovich, Holly Pennington, Derek Pennington, Aaron Farnham, Robin Georgeson and Roxane Smith .
Alan spent all of his working life as an accountant; in fact, he did so until his last days.  Outside of work, Alan spent a lot of his free time on the golf course and over the years made many special and close friends on the links.  He always treasured this.
Alan will be remembered for his no-holds-barred attitude towards life, his resilience and his sense of humour.
The family would like to express their gratitude to Dr. McKee, Dr. Skubiak and the nurses in Emergency and on level four of Shuswap Lake General Hospital for their kind and compassionate care.
A Celebration of Life Service will be held on Wednesday, May 2 at 1:00 PM at Fischer's Funeral Services & Crematorium in Salmon Arm.
In lieu of flowers, donations in Alan's memory may be made to Shuswap Lake General Hospital Foundation or a charity of one's choice.