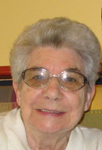 January 15, 1929 – May 10, 2016
at the age of 87 years
Lola Joyce Gavel passed away peacefully at Mt. Ida Mews, Salmon arm, B.C. on Tuesday May 10, 2016 at the age of 87 years. Lola was born in Westlock, Alberta on January 15, 1929.
Meeting the love of her life at the Sugarbowl Café in Edmonton, she became a mother at the age of 19. Two more sons followed, along with 36 household moves throughout Western Canada, as employment opportunities arose.  The home in Edmonton, of grandparents Willis and Rosalie Collins, was the anchor around which the family orbited. The family arrived in Sicamous in 1961, and settled in a relocated log house on a hill off Solsqua Road, overlooking the Eagle River rapids. With growing boys to feed and many extended family members visiting, putting food on the table was a challenge. So Lola started the vegetable and flower gardens that became the passion of her life.  Roses bordered rows of tomatoes, potatoes, beans and corn planted among the fruit trees. Lola's many friends and family were always welcome with lively conversation, coffee and a slice of pie.
Lola's husband and partner in life, Harold George (Curly) predeceased her in 1985. She is survived by her sister Audrey R. McDonald of Merritt, sister Vivian (Bill) Manson of Edmonton, brother Doyle (Helen) Collins of Kelowna, 3 sons Lee (Charlene) of North Vancouver, Kim (Kathy) of Sicamous, Mike (Lisa) of Sicamous, and 7 Grandchildren, 4 Great Grandchildren and many friends and family throughout Alberta and B.C.
The family wishes to thank the staff at Mt. Ida Mews for their compassionate, loving care given to mom during these last years. We would also like to recognise the Manson Family for all the love and assistance provided over the years. We are very grateful you all were there for her.
A celebration of life will be held at a later date for close family and friends.