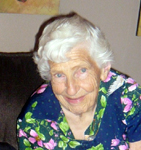 December 1, 1926 – December 10, 2013
at the age of 87 years
June Griswold gracefully passed away in the early morning of December 10, 2013 in Salmon Arm at the Shuswap Lake General Hospital.  Her daughter, Julia Armstrong was by her side during her last hour.   June's bright mind to the very end was most remarkable.
June was born on December 1, 1926 in Coeur d'Alene, Idaho to parents in the logging industry.  Her father logged with horses and hired a large crew.  Her mother was a camp cook for these men.  They moved to several different locations throughout Idaho, Washington and Oregon.
In January 1952, June met a handsome young logger, Harry Griswold in Oregon.  One month later they were married on February 24, 1952.  Their marriage of 54 years included adventure, travelling and homesteading in the Kootenays.
Their first daughter, Julia was born one year later, followed by Nola two years after.  Both girls grew up learning practical skills on the homestead which were very beneficial in their lives.  Farming and logging with horses, gardening and tending the livestock were a daily part of life on the homestead.
While living near Kaslo for nearly 37 years, June became very involved with the Kootenay Lake Historical Society and became instrumental in making the SS Moyie in Kaslo a heritage site.
June and Harry moved to the Shuswap in 1990 to be closer to their daughters.  June quickly got involved in the Pioneer Power Club.  Many people will remember her display of logging history pictures which she showed in connection with Harry's miniature logging equipment.
June got more and more involved with the community.  She put a lot of energy into the local Seed Savers event which grew from about 40 people to over 800 in later years.  One of her regrets in her last hour of life was that she would be missing the next Seed Savers event which would mark the 20th anniversary.
June was also a stalwart supporter of the Salmon Arm Community Band. She did the advertising for the concerts, write-ups for newspapers, created a display board about the Band and collected donations at the concerts.  Just one week before she passed away she attended one of the band practices.  To her delight, the band sang Happy Birthday to her.
Fall Fair was always a busy time for June.  She organized the Active Artisan Barn and even added organizing Memory Lane last year.  She also volunteered at many events at the HaneyHeritageVillage.
All her efforts were recognized in 2010 when she received the Kay Braby Community Spirit Award at the Women of the Year event staged by the Women in Business of Salmon Arm.
June leaves behind many grieving family members including her daughters Julia Armstrong and Nola Kotow (Ken); grandchildren:  Lena Armstrong, Della Castillo (Omar), Donna Mongrain (Eric), and Ryan Bennett; great grandchildren:  Matthew and Corey Mongrain.
A Celebration of June's Life will be held in the spring 2014 with the date to be announced later.  In lieu of flowers, consider a donation to the HaneyHeritageMuseum, EnderbyMuseum or the SS Moyie in Kaslo.
June always put others before herself.  She loved people of all ages and has many friends both locally and internationally.  Her passing has left a large whole in the lives of all those she touched with her gentle persistent ways, bright blue eyes and keen mind.