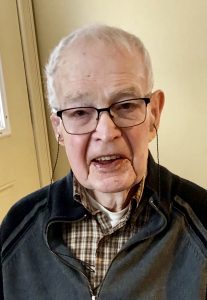 February 14, 1934 – August 26, 2019
at the age of 85 years
Percival (Percy) John Harkness was born to Leonard and Selma Harkness on February 14, 1934 in Harptree, Saskatchewan. It was in his youth while working on various farms that his lifelong love of solving mechanical issues with anything from tractors to trucks began. As a young man he moved west to work for Canadian Pacific Railway as a telegraph operator and dispatcher. Although he had many fond memories of work locations like Beaver Mouth and Ashcroft it was in Revelstoke that many important events took place. It was there that Percy first met and dated Irene Chudoba and as often happens, life takes on different paths to the same place as Percy and Irene would eventually marry thirty plus years later in 1993.
Percy was very active in the Masonic order and a mason for nearly sixty years in various lodges around the BC interior. It was a very proud moment for Percy last fall to attend lodge in Salmon Arm with his son-in-law and grandson representing many generations of freemasonry.
Percy worked at Mainline Co-op and also maintained an electronics repair shop at the mall for many years, and although it was many years in the past the railroad never really left his life. He maintained contact with other railroad buffs around North America and never failed to jump on an opportunity to regale a nearby ear with tales of the rails.
Percy and Irene settled into married life for nearly 25 years in the Salmon Valley until Irene's passing one year ago. It was his wish to have his ashes mixed with hers so they would be together once again.
Percy is survived by his daughters Valerie Mohart (Peter) and Heather Smith (Wally), step-daughter Kazuko Takamoto (Jacqui), step-sons Brad and Mark Winter, grandchildren Griffin Smith (Marina), Kinnon Smith (Josh), Rebecca Mohart, step-grandchild Noriko Vickerson (Paul) and step-great-grandchildren Madison Vickerson-Bangma and Logan Vickerson-Bangma.
There will not be a formal memorial service for Percy; however, the family requests that anyone wanting to mark his passing to do so by lifting a cup of his favourite beverage of all, coffee.