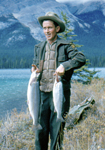 December 18, 1925 – September 6, 2012
at the age of 86 years
Ole passed away on September 6, 2012 at Shuswap Lake General Hospital at the age of 86 years.
He was predeceased by his father Henry in 1966, his mother Annie in 1976, his brother Bill in 1985 and his daughter Margaret Lynn in 2008.  He is survived by Alice, his wife of nearly 62 years, daughter Karen (Bob), sons Robert (Pat) and Larry (Lorena) as well as his grandchildren Lanayah (Paul), Ellison, Courtenay and Kristen.  He is also survived by his sisters Helen Taggart of Brooks, Alberta, Karen Poulsen of Cowley, Alberta and Isabel Hermanrude of Edmonton, Alberta plus numerous nieces, nephews and in-laws.
Ole was born and grew up on the family farm near Evansburg,Alberta.  He attended school at the old Reno school.  After working on the farm and in logging camps, he joined the Royal Canadian Naval Reserve from 1944-1946.  In 1949 he became a National Park Warden where he served for 31 years.  He was stationed in Banff, Jasper, Revelstoke/Glacier, Pacific Rim and Kootenay National Parks until retiring to Salmon Arm in 1980.  He enjoyed traveling, bowling, old time dancing, gardening, fishing and visiting with many friends and family members.
There will be no service by request.