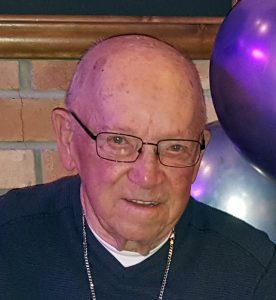 August 22, 1935 – February 22, 2020
at the age of 84 years
Donald Nicholas Hodgson – "Nick"– 84 years, passed away February 22, 2020 at Shuswap Lake Hospital. Nick was born August 22, 1935 in Morrin, AB. He married his love, Norma Wonnick in 1959 and they farmed outside Morrin for 13 years while he also drove the school bus for the Starland School District. Their two sons, Dwayne and Michael were born in 1960 and 1966. In 1972 they moved to Aldergrove, BC and continued farming while Nick worked nights for the Langley School Board. Nick and Norma continued to work and move throughout BC and settled in Blind Bay, BC.
He especially enjoyed people and socializing at the Blind Bay Village Grocer and simply meeting friends on the corner to discuss the current events.
He cared about his family, neighbours and the community around him and was always there to lend a helping hand or an ear.
Nick and Norma moved to Salmon Arm in 2017 to be closer to town. He is survived by his wife, Norma, sons Dwayne (Cathy) and Michael (Bryan), granddaughters, Laura (Kyle), Lindsay and Caley and great grandchildren, Kayden, Khloe and Connor.
"A life's job well done my love"
No service will be held, in lieu of flowers, please make a donation to the Canadian Cancer Society on Nick's behalf.