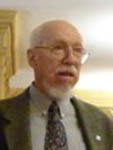 October 29, 1925 – October 6, 2016
at the age of 90 years
The story of Vins Holbrook's life is a success story. He lived his life in a manner worthy of emulation. He died on October 7, 2016 at age 90.
Many of his students, friends and colleagues would be surprised to learn he had a difficult childhood and did not do well in school. In 1941 he dropped out of high school, lied about his age (15), joined the US Navy, and thus began a lifelong habit of taking advantage of opportunity. He spent the next 4 years on destroyers in the South Pacific and was aboard the USS Henley DD762 when it was fatefully torpedoed and sunk. His natural intelligence and uncanny memory began to serve him well and he became a signalman.
When the war ended he took advantage of his veterans' benefits earning his high school diploma and then a B.A. in History/Geography from California State University, Chico in 1949. He married his wife of 62 years, Barbara while still in college in 1948. His lifelong curiosity and habit for learning ended up rewarding him with Master degrees in both Geography (1955) and Education(1964) from the University of Oregon.
He taught social studies and was a counsellor in high school and community college in California for the next 20 years. In the summer of 1968, while visiting a friend in Salmon Arm, he learned about the Community College movement in B.C. and the planned campus of Okanagan College in Salmon Arm. This was exactly what he was looking for! The college was even offering Geography. Again taking advantage of the opportunity, he applied for and got the job and in August 1969 he, his wife Barbara, 4 out of 5 kids, a dog and a horse emigrated to Canada. He lived in Salmon Arm for the rest of his life. Vins was very happy and proud of his adopted country and he and Barb became citizens as soon as they could.
Vins was a wonderful teacher and role model. In spite of a life with plenty of adversity he always kept the positive view. Most of the people reading this will have been fortunate to have been one of his many students, colleagues or friends. He had a very strong social conscience and was always involved with community endeavours, including Elderhostel and the NDP. For a while he was on the Shuswap Lake General Hospital Board of Directors. He really cared about the people he met and always did everything he could to make their lives better. This sounds like a simple platitude, something you'd expect to read in any obituary but in his case it is true. For Vins being a good and useful citizen was a part of being a good person.
Upon retirement, Vins continued to enjoy bird watching, rockhounding, fishing, reading and watching his beloved Toronto Blue Jays.
Vins spent his last years at Lakeside Manor. He was predeceased by his wife Barbara Roach Holbrook in 2010 and survived by his sons and daughters: Michael, Lisa, Sara (Douglas), Jay (Joanne), and Patrick; grandchildren: Tyson, Chace, Chloe and Thea; and great grandchildren: Viah and Quinn.