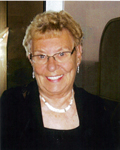 November 15, 1935 – June 10, 2015
at the age of 79 years
Celebration of  Life:  11:30 a.m. on Saturday July 4th at Fischer's Funeral Services in Salmon Arm.
Our hearts weep as we announce the passing of our precious sweet mother, Muriel Carol (Jones), (Henry) Howard, fondly known as Carol. Born November 15, 1935 in St. John New Brunswick, she was in her eightieth year when our journey with the cancer ended. She left us early in morning on June 10, peacefully and gently, (much as the way she lived her life) with family at her side at her home in Salmon Arm.
She leaves behind her faithful and beloved companion of 13 years, Mimi, her ever protective, little dog.
Loving and missing her greatly are her children:
Carol Ann Henry, (Glynne) Green; Wanda Henry; Robert (Tina) Henry and Sandy Henry, Milne. The loss and memories of 'Nana' will be shared by grandchildren Colyn and Byron Green, Chris, Micheal and Sarah Henry and Andy Milne…she was devoted to them. Great grandchildren Aaden and Silas Henry were fortunate to have had some time to experience her love.
In her later adult years mom connected with both a maternal half-brother Rick (Helen) Burke of Melbourne Australia and a paternal half-brother Jim (Gloria) Carter. These relationships blossomed and provided comfort to mom through her end of life journey.
Having spent ½ of her life on the east coast, Mom leaves behind dear and close friends on both sides of the country. Some of whom she remained in close contact with until her final days. Mom cherished her friends and they cherished her.
The appreciation we have for the home care aids from Shuswap Community Care is immeasurable-we couldn't have done it without you! Mom's `regulars` became like an extended family network, trusted and valued for what they individually brought to mom's care, we were so privileged to have you. Your stories, laughter, gentle care and nurturing contributed greatly to Mom's contentment and quality of life, a heartfelt Thank You to each of you, you went above and beyond!
Thank you to Hospice volunteers, Barb, Penny and Katherine. The stories, foot and leg rubs, and quiet companionship meant a great deal to mom and she welcomed your visits.
Thank you to her nurse Lorraine Prosser and Dr. Grant McCullum.
Not only were mom's pets special to her, family pets, friends pets, neighbourhood pets all held an endearing place in her heart. Mom's charity was SPCA, should you wish to make a donation in her memory.
Please join us for a memorial and celebration of mom's life that will be held at 11:30 a.m. on Saturday July 4th at Fischer's Funeral Services in Salmon Arm. There will be an opportunity to share memories and stories over a light lunch.