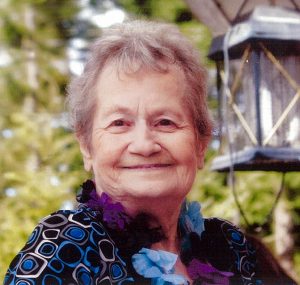 April 14, 1932 – February 8, 2020
at the age of 87 years
A Celebration of Mom's life will take place February 17, 2020 at 2:00 pm at Fischer's Funeral Services, 4060 1st Ave. SW, Salmon Arm
Born in Waldheim, Saskatchewan to Elizabeth and John Wiens, Laura was the 6th of 9 children. Laura was a devoted wife to Len Kliewer for 62 years, loving mother to her daughters Barb (Laura), Lynda (Tim Nickoli) and her son Marvin (Amy). Mom greatly enjoyed spending time with her 9 grandchildren and 1 great grandchild. It was a highlight for her to visit her son and grandchildren as she didn't see them often and looked forward to it until her health prevented her from travelling. Mom is also survived by her two sisters, Esther Schmidt of Vernon and Tina McMillan of Langley and her brother Ray Wiens of Langley.
Mom had a rough start in life, being born into a poor prairie family making it only to grade 4 due mainly to health issues. Mom was determined to make the best of everything and entered into life as a challenge. Her love for Jesus gave her courage to strive to get the most out of the life she was given. She had back surgery at 20 spending 6 months in a body cast and learning to walk again then went to Bible School at age 22. Her 3 children were so precious to her that she was depressed in September when they went off to school, leaving her at home without them. She became a business owner in her late 30's, learned how to read better when she was in her 40's, learned sign language in her 50's, became the president of the Silver Creek Senior Group in her 60's, how to swim in her 70's, taught herself to play the organ when 75, wrote 4 books including her memoirs specifically for her children and grandchildren, and loved to go on adventures like a hot air balloon ride for her 80th birthday. Mom loved playing games, laughing, teasing, adventures and learning new things. She desired to live to age 100. Mom always believed that strangers were friends she just didn't know yet and that everyone needed a friend and could be a friend. Mom volunteered at a seniors home even when she herself was a senior, making picture books for others to enjoy. She loved her family and would do anything for them. It bothered her greatly if she thought she hurt someone and she always desired to make things right and to believe the best in everyone. Mom did not believe in favouritism but rather that everyone deserved to be treated as special, to have a 2nd chance. In her last 10 years she struggled with many health issues, spending too much time in the hospital yet being an inspiration on how to live and not die. She hated giving up her independence because it meant not being able to visit and help her friends.
Mom, you will be greatly missed, you have been such an inspiration to us. You have taught us to sing in the face of fear, to love the unlovable, to believe in God that saves and loves, and to give second chances as God does. You are in Heaven now where you have longed to be and we know beyond a shadow of a doubt that we will see you again.
Thank you for loving us and being such an incredible mother and inspiring person.