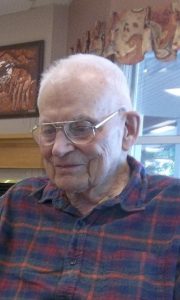 February 9, 1920 – December 22, 2018
at the age of 98 years
"Yea though I walk through the valley of the shadow of death I shall fear no evil"
It is with broken and sorrowful hearts that we announce the passing of our dearest "Joe" on December 22, 2018 at Salmon Arm, BC.
Joe was born and raised on the prairies of Alberta. He was the second child born in a sibline of four. Raised on the farm he always had a love of the outdoors. As a young lad he used to hunt gophers to earn his spending money and with this money he bought his first bike, which he was so proud of. Into his nineties you could still see him out for a ride on his bike. One of his main jobs on the farm was cutting and stacking wood for the family home. As a young man Joe enlisted for service during WWII and went off to war. As he once said, "I was just a young prairie boy who didn't know what we were sailing into". Joe was part of the Royal Engineers who built bridges so troops could pass and to destroy them also so the enemy could not advance. He always maintained that he "didn't do anything special".
Once he was discharged Joe spent five years in the Athabasca area of Alberta as a Fire Lookout. After his father passed away Joe made his way to British Columbia to be closer to his mother. British Columbia would become Joe's home for the rest of his life. He volunteered throughout his life and was an unassuming and kind man who would lend a helping hand whenever and wherever needed. Joe was a very humble and gentle man who had an incredible faith. He was a devoted son, brother, uncle, friend and a faithful servant to his Loving God.
Joe was predeceased by his parents, Frank and Carrobel Lawrance as well as his three siblings; Phyllis, Penny and Arthur. He was also predeceased by his dear friends Ken and Betty Rowley. Joe is survived by numerous nieces and nephews and his very dear close friends, John and Diane Majerech. We would also like to thank all of the staff at Bastion Place and all of the medical staff for the care and respect shown to Uncle Joe.
We know that Uncle Joe has made his way home to his Lord and Saviour where he has secured his eternal resting place. He will be missed tremendously by those who loved him. At his request there will be no service. Joe will be placed to rest at a later date with much love and respect in honour of the incredible man he was.