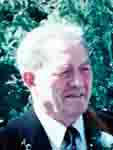 August 6, 1932 – December 22, 2016
at the age of 84 years
Born August 6, 1932 at Davochfin in Dornoch, Scotland, Hamish passed away December 22, 2016 at Eagle Bay, BC at the age of 84.
Hamish was a true Scotsman who was fiercely proud of his Scottish heritage. He was more Scottish than most Scots. The Scotsman with an English accent. He was never more at home than when he was wearing his kilt and attending a Highland gathering. He was a member of the Royal Canadian Legion (Chase), was in the British Merchant Navy and was retired from Dairyland.
He is survived by his loving wife of 42 years Bonnie, five daughters Tracy McIntosh (Phil Thorne), Carrie Mackintosh (Shawn Cummings), Kylie (James) MacHattie, Heather (Marcus) Ouimet and Hailey (Kelsey) de Lisser as well as ten grandchildren.
In lieu of flowers, memorial donations may be made to the Royal Canadian Legion, Branch #107, Box 122, Chase, BC, V0E 1M0.