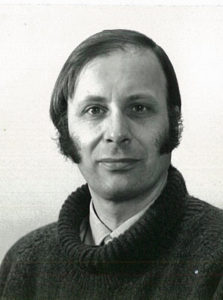 March 3, 1933 – June 12, 2018
at the age of 85 years.
A celebration of Hugh's life will be held on September 1, 2018 at 3:00 p.m. at the First United Church, 450 Okanagan Ave. SE, Salmon Arm
Ian "Hugh" Tyson, age 85, died peacefully on Tuesday, June 12, 2018 at the Shuswap Lake General Hospital in Salmon Arm, BC. Born in Bromley, Kent, Hugh spent his early childhood in Hong Kong and Malta returning to England in 1939. He is survived by his wife, Diane (nee Bishop), son Oliver (Hyoun-Joo), daughter Emily (Bill), grandchildren Aveleen, Ian, Sora and Dylan, as well as his sister Sally Brown. Always fascinated by nature, he obtained a PhD in Agricultural Botany from University College Wales, Aberystwyth in 1959 and devoted his professional career to the study of environmentally induced heritable changes in plants. He met Diane while working at the Canada Department of Agriculture in Morden, Manitoba. Married in 1965, they have loved, supported and cared for each other for over 52 years. An Associate Professor at McGill University in Montreal from 1965-1997, Hugh mentored numerous graduate students in their research and often delighted more in their success than his own. Upon his retirement in 1997, Hugh and Diane headed West to their adopted community of Salmon Arm, BC where he began a second career as an environmental activist, volunteering with various community organizations (Shuswap Environmental Action Society, Wetland Alliance: The Ecological Response, the Environmental Advisory Committee of the City of Salmon Arm and the Shuswap Solar Energy Society). His overwhelming passion was the protection of the environment for future generations. An avid squash player, cyclist and downhill skier until the age of 83, Hugh was a lifelong proponent of physical fitness. He founded the Salmon Arm Squash and Racquetball Society and was instrumental in the building of the community courts. He also loved working in his garden and listening to classical music, especially Mozart. He was endlessly curious about, and engaged with the world around him and will be sorely missed by family and friends for his kindness, humility, keen mind and subtle sense of humour. The family would like to thank the Physicians and Nursing staff at the Shuswap Lake General Hospital for their thoughtful and compassionate care. In lieu of flowers, donations to Eco Justice (https://www.ecojustice.ca/) or the West Coast Environmental Law Research Foundation (https://www.wcelfoundation.org/) would be greatly appreciated. Memorial Service to follow at a later date.