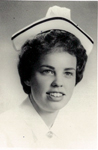 April 24, 1943 – October 30, 2015
at the age of 72 years
MCDONALD, Margaret Evelyne (Tweedy) born April 24, 1943 in Ottawa, ON passed away peacefully on Friday, Oct. 30, 2015 at Hillside Village, Salmon Arm at the age of 72 years after a lengthy battle with Alzheimer's.
Margaret leaves behind her loving husband of 49 years, Dave McDonald and their children; Karen (Jamie) and family, Brad (Jeanette) and family and Scott and family, six grandchildren; Brianna, Solomon, Chris, Hanna, Emily and Josh all from the Edmonton area, her loving sister Julie (Jean) of Vancouver and sister in law Cathy Tweedy of Ontario. She was predeceased by her parents Evelyn and Gord and her brother John.
Margaret was a loving, devoted wife and mother and was always there for all of us no matter what! Margaret was a compassionate nurse for 35 years who dearly put her patients first and genuinely loved to make a difference for others. Margaret nursed in Trail, Castlegar, White Rock and Kamloops and retired in 2000. She loved sewing, crocheting, sports and most of all spending time with family. She was the one who kept the connections and communication alive and the glue that kept the family together.
We truly have missed her sense of humour throughout her illness and heaven will be a much happier place with her presence. She was truly one of a kind and will always be cherished in our hearts.
As per her request, no service will be held, however a celebration of her life will be held in the spring when the flowers are blooming. In lieu of flowers, memorial donations in Margaret's name can be made to the Alzheimer's Society or Humane Society.   Online condolences may be made to McDave50@hotmail.com.