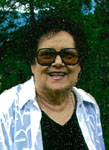 April 7, 1934 – August 16, 2014
at the age of 80 years
The family of Joan Melnyk, affectionately known as "Jojo", regrettably announces her passing on Saturday, August 16, 2014 at the age of 80 years.
Mama/Jojo/Joni was the kind of person who was loved by all who had the privilege of knowing her.  She had a zest for life and always lived life to the fullest and her own way.
Mama's younger days were as the owner of a travel agency and a secretary for her son Greg.  Later as a bartender at the Dover Arms, the Castle Hotel in the Lounge and then in the Pub (with her boys who she loved dearly) and at the Brit where she met many of her life long friends.
"Mama" was the best mom any child could ask for.  She was fierce in her love for her son Greg and her daughters Tracy and Lesley and we loved her with every ounce of our being.  We will miss her every second for the rest of our lives.
"Jojo" was a loving grandma who saw the best in her grandkids and always supported them in whatever they aspired to be.
"Joni" was a loyal partner and friend, always there for you if she was needed.
Mama wore a lot of different hats in her time here; mom, business owner, secretary and bartender.  She loved the West End where she lived for many years before and after North Vancouver.  Her last years were in Salmon Arm with her girls and her grandkids.
We would laugh often, reminiscing about all the fun times she had with everyone through the years at all of those places in her memory and I know you all probably have a memory or two that you could share about Mama – of that I'm sure.  So have a Rye & 7 with a splash of soda for Mama the next time you're out and about and make sure the color is good.
"Show her the way to go home" Lord
Love you – our beautiful Mama/Jojo/Joni.
Love your son Greg, your daughters Tracy and Lesley, you Sons in Law Carlo and Thomas, your grandkids Lucas, Jessica, Vinny and Bastion and your partner Tommy XXXOOO.