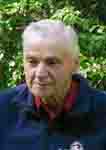 January 7, 1931 – December 13, 2016
at the age of 85 years
Born in Smithers, BC, Steve is survived by his loving wife of 57 years Mary Lou, his daughters Sharlene (Brian) and Brenda (Thom), step children Gail (Steve), Rod (Kayla) and Terry, 12 grandchildren, 11 great grandchildren, brother Tom of Smithers, BC and sister Kitty of Oliver. He was predeceased by two brothers Emil and Tony and grandson Jacob (n 2007). Loved and missed by all.
Steve worked on the family farm in Smithers and moved to Alberta to get his mechanic's ticket. He moved to Fairview, then Peace River, AB, and then in 1973 he moved to Salmon Arm, BC where he worked for Braby Motors and Mikes Auto Sales until retiring at the end of 1990. Steve & Mary Lou lived in Sunnybrae until 2007 when they moved to town.
Steve enjoyed boating on Shuswap Lake, often pulling one to two skiers wherever he went. He also loved camping and fishing and ski-dooing. He finally sold his vintage ski-doo that was still in good running order because of his mechanical skills.
Steve and Mary Lou took trips across Canada and United States in their truck and camper. They also attended many music festivals with friends. Steve loved to dance until he was diagnosed with Parkinson's. He always enjoyed company and a good laugh.
Special thanks to Dr. Weicker and the wonderful staff at Mt. Ida Mews, they took such great care of Steve for the last four years. God Bless you all.
No service by request.