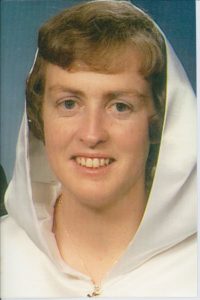 February 22, 1950 – November 17, 2017
at the age of 67 years
Mass: Thursday, November 23, 2017, 11:00 a.m., St. Joseph's Catholic Church, 90 1st Street SE, Salmon Arm
Catherine passed away peacefully at Shuswap Lake General Hospital on Friday, November 17th in Salmon Arm, BC.
Catherine leaves behind her loving husband of 42 years George Moran, her three sons; Gavin (Paula), Colin (Caitlin), and Jamie (Lori & Ryan)) all of whom she was so very proud of~ and her precious granddaughter Kiera, who lit up her life.
Catherine was predeceased by her caring and loving parents John & Maria McCarthy, along with her adored brother Sean.
Catherine leaves behind many family & friends to mourn in Canada and Ireland, including her brothers; Dennis, Thomas, and Brendan, along with her only sister Eileen ~ and their families.
Catherine moved to the Okanagan 2 years ago to enjoy retired life after living in the community of Kitimat B.C. for 40 years.
Catherine came across the pond from Ireland to teach in Canada & taught at St. Anthony's School for 28 years~touching the lives of many students and staff.
Catherine loved her family deeply, and shared a passion for reading, singing, travel, going for walks, and attending church.
The Moran family would like to send a special thanks to Dr. Shoesmith, Catherine's medical team, and the staff of Shuswap Lake General Hospital, for their care and compassion with Catherine over the last few months.
In lieu of donations or flowers, Catherine would like you all to please donate to your local food bank, or to the Union Gospel Mission, 601 E. Hastings St., Vancouver, BC, V6A 1J7.