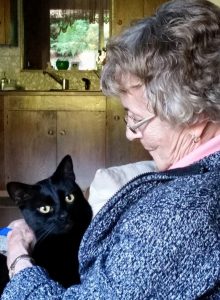 October 26, 1935 – January 12, 2019
at the age of 83 years
A Memorial will be held at a later date.
Marion Agnes Morris (83) the oldest daughter of Bill Alison and Irene Wells. She had many fond memories of playing outdoors with her four siblings; George, Edith, Jean, and Bill in Revelstoke (BC). At the age of sixteen she met and married her husband Stanley James Morris (Jim). In the first years of their marriage they had a farm in Saskatchewan and she enjoyed watching the lightning storms on the prairies. Later, they moved back to BC and bought a farm outside of Salmon Arm. The small house and farm would become their home. They built a bigger house, designed beautiful gardens, had chickens, cows, and horses. Their home was welcoming, warm, and open to their family and friends, just as they were. Marion and Jim created a loving life together and shared that love with their many nieces, nephews and adopted family. Marion worked as the manager of Ready's Drugstore, where she made many friends in the community. When she wasn't at work, she could often be found camping, boating, or hiking with family and friends. She didn't stay still for long and at home she would be busy with baking, cooking, canning, sewing, or drawing. She was immensely creative and talented. Marion was passionate about nature and animals, her little farm was the perfect spot for her to watch for bears, deer, raccoons, birds, and frogs. She had the most incredible encounters with wildlife all from the safety of her patio. We love you deeply, you were a mother, aunt, sister, grandmother, and most of all our friend. We miss you, The Alisons, The Gross's, The Morris's, The Sage's, and The Watties.
Please consider making a donation to the SA SPCA, 5850 Auto Road NE, Salmon Arm, V1E 2X2 in lieu of sending flowers.