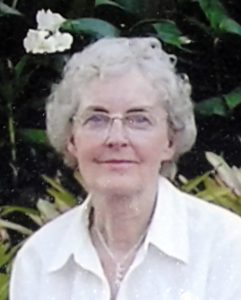 July 1, 1928 – November 25, 2018
at the age of 90 years
It is with great sadness that we announce the passing of Evelyn Dorothy Painter (nee Carsten). Evelyn peacefully passed away at the age of 90 at Hillside Village in Salmon Arm on Sunday, Nov. 25th. She will be sadly missed by her sister, Glad Weidlich, (predeceased by her husband Fred on April 15, 2018); brother, Walt (wife Rose) Carsten, sister-in-law (Elsie) and nieces Ali, Dianne and Donna (Dan, Corey and Cole Barker), Sharon (Alan, Derek, Mitchell); Karen ("T", Tyler, Katlin, Bryce) and nephew, Les Carsten (Rhonda, Sarah).
Ev was born in Preeceville, Saskatchewan and as a young girl, she loved horseback riding, playing the piano and participating in as many sports as she could, excelling in everything she did. Ev also excelled at school, learning Latin as a second language and attended the Success Business College in Manitoba. Ev worked at International Harvester where she met her husband, Harold Painter. Ev then began working with the Regina Police Department and remained there until she retired after a long career. Ev was predeceased by her husband, Harold, in 1990 (shortly after moving to Salmon Arm) and by her brother, Art Carsten in October 2001.
Ev made friends easily and, as such, had many close friends in Yorkton, Regina, Vancouver, etc. Her love for travel took her to many wonderful destinations with Hawaii being one of her favourite locations. She was involved in the community and gave generously to many charities; which included devoting her time to read with the elderly. Ev will be lovingly remembered as the remarkable women she was, a wonderful and loving aunt, gourmet cook and her love for Siamese cats, Ming and her golden lab, Rover.
It was Ev's wish that no memorial service be held. In lieu of flowers, donations can be made to the Painter Endowment Fund at the Shuswap Community Foundation, www.shuswapfoundation.ca.