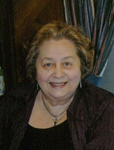 March 26, 1934 – July 10, 2017
at the age of 83 years
A celebration of Betty's life will be held at 2:00 p.m. on Friday, Sept. 1, 2017 at the Fifth Ave. Senior Citizens Assoc., 170 5th Ave. SE, Salmon Arm
Betty Louise Porter passed away peacefully on Monday, July 10, 2017 at Shuswap Lake General Hospital, Salmon Arm, after a short battle with Heart Disease at the age of 83 years.
Betty was very active in community work and resided in cities in Ontario, Sask., Alberta & BC
She is survived by her loving husband of 45 years Clayton, daughter Terrie (Gilbert) Dubois, son Rick (Linda) Bagley, son Glenn (Robyn) Bagley, all of AB and sister Joan (Ron) Dowson of BC., 6 grandchildren & 5 great grandchildren.
A celebration of Betty's life will be held at 2:00 p.m. on Friday, Sept. 1, 2017 at the Fifth Ave. Senior Citizens Assoc., 170 5th Ave. SE, Salmon Arm. In lieu of flowers, memorial donations in Betty's name may be made to the Heart & Stroke Foundation, #201 635 Victoria Street, Kamloops, BC, V2C 2B3.