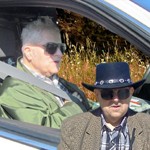 December 21, 1941 – February 3, 2013
at the age of 71 years
It is with great regret that we announce the passing of John Richard.
John immigrated to Canada from Switzerland as a young boy, and had called the Salmon Arm area his home since then.  An active and loved member of the Shuswap Amateur Radio club for many years, John was always there to lend his support to club activities.  Many would recognize John as a passenger in the RCMP cruiser during the Salmon Arm parades in recent years.
Blinded as an adolescent due to ocular disease, John navigated his life by refusing to become a slave to his blindness.  He frequently told others that we the sighted were more blind than he was.  In many ways one could agree with him.  A very self reliant man, John would chop his own wood, stoke his own fires and unaided navigate from his home to perform his errands.   In later years friends and the local Handi-Dart would routinely take him on his weekly outings to his favourite establishments.  An outing that he truly enjoyed.
Predeceased by his mother, John often shared his adoration for her in his life to his friends.    He had a special affection and appreciation for the tellers at Downtown Askews.  They regularly greeted him with kind words and big hugs.  He was also a member of the Salmon Arm Seniors Centre.  Many reading this will recognize this kind soul, as he touched so many in his life.
 John passed away in the Shuswap Lake General Hospital after a brief illness.  Those that knew John would like to thank the staff at the hospital for their kindness to him in his last days.
John never married, but had many friends that loved him dearly.  He left his mark on many in the community and will be missed.  John believed that his true reward would be in heaven,  We that knew John, believe fully that God has embraced him in his love.