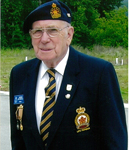 December 12, 1924 – April 2, 2017
at the age of 92 years
A church service dedicated to the memory of Rev. Emeritus Norman Russell will be held on Sunday, May 7, 2017 at 11:00 a.m. at the Canoe Seniors Branch 98, 7330 49th Street NE, Canoe, BC. (please note venue changed)
Norm was born to Daisy and Walter Russell on December 12, 1924 in Miami, Manitoba.
The family moved to the Nipawin area of Saskatchewan to homestead two years later.
Norm attended a country school named Luing, taking grades nine, ten and eleven by correspondence.
He joined the Army on December 16, 1942 and later served in European theatre as a Wireless Operator with the Fort Garry Horse until the war ended.
Norm married Ev Foy in 1947 and their daughter Terry was born in 1954. Ev passed in 1978 and Norm followed the meat cutting trade from 1947, first in Abbotsford and later in Whalley until 1989.
After closing the meat market he and his wife Rose, who joined him in marriage and in the meat market in 1978, became involved in the study and philosophy of Spiritualism. Norm was ordained in 1997 here in Salmon Arm and opened The Spiritualist Church of Salmon Arm at that time. He joined
the Royal Canadian Legion in Whalley in 1954 and was given his Life Membership here in Salmon Arm and served as Branch Padre from 2004 – 2012.
Norm leaves at his passing, their daughters Terry (Jim); Sylvia; Nicole (Scott) and grandchildren Lara, Susie, Angela, Matthew, Haillie and Cody.
Norm will meet in the spirit realms with Terry's mother, Ev; his wife Rose (2016); his parents and brothers Bob and Pete along with friends who have made their journey before him.