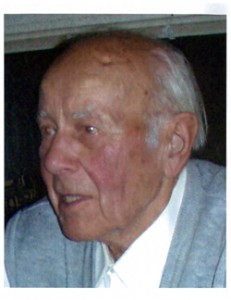 March 13, 1921 – February 3, 2016
at the age of 94 years
Joseph passed at Hillside Village, Salmon Arm on February 3, 2016.
Joe was born in Poland, March 13, 1921. He moved with his family to Canada when he was a young boy. He was raised in Garcon, Manitoba.
Joe served with the Canadian Forces in WWII and was an interpreter for Winston Churchill for the Polish troops.
He moved to Salmon Arm in 1961 and spent most of his working career as a mechanic and teacher at Caribou College in Kamloops.
He spent many of his later years fixing bicycles and then giving them away to any child that needed one.
Joe is survived by his sons Jim and Roger, his daughter Marlene and his sister Frances and eight grandchildren. He was predeceased by his son Ron and his daughter Janet.
He will be missed.