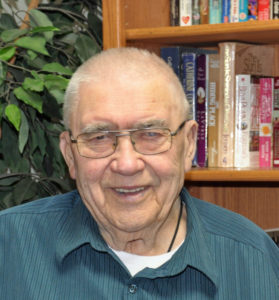 December 1, 1924 – April 4, 2018
at the age of 93 years

With great sadness, we announce the passing of John who died peacefully at the Shuswap Lake Hospital on April 4, 2018.
He is survived by his three loving children, daughters Veronica (Johnson), Mimi (Barbour) and his son Dan. He was blessed with five grandchildren who will miss him terribly and five wonderful great-grandchildren who made him very proud.
Born in Elfros, Saskatchewan – December 1, 1924 – John met his devoted wife, Evelyn, at the tender age of twenty, married her, and after 18 years, they moved to British Columbia. Living in Vancouver, a short time on Vancouver Island and a stint in the Yukon, John and his wife finally settled in the Shuswap area.
John was a great friend to many and all who knew him, benefited from his kindness, his wonderful gentleness and easy laughter. He had a smile that lit every room he entered. In his later years, though handicapped with blindness, he never gave up and led a full life until failing health made that impossible.
He became involved in the community and was a long-time member and president of the Salmon Arm Lions Club. He was also involved with the Seniors Clubs and various groups in Canoe and in Salmon Arm.
John was a beautiful soul who will be loved and forever remembered by his family and friends. He welcomed many into his heart and treated them like were his own. His giving heart and kind wisdom will be sadly missed. There was never a man more loved. There's no doubt, God will be waiting to welcome him with open arms.