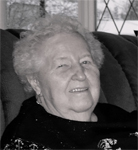 October 1, 1921 – February 15, 2017
at the age of 95 years
Irene Hilda Mary Savery (nee: Sand) born October 1, 1921 in Brandon, Manitoba, passed away peacefully on February 15, 2017 in Kamloops, British Columbia.
Irene was predeceased by her father, Christian Sand; her step-father, George White; her mother, Florence (nee: Goodyear, Sand) White; her husband, Robert 'Bob' Savery; and her sisters, Dorothy Goodyear and Doris Mallows. Irene was also predeceased by her sons, Frederick, Robert 'Bob', and Charles John 'Jack' Savery; and her daughter Diana Birch.
Irene grew up in Winnipeg, Manitoba and graduated from St John's Tech; she loved football from the time she was very young and was a life-long Blue Bombers fan. At age 21 she moved to Toronto to work in the payroll department at Victory Aircraft in Malton. After the war, Irene managed the A/R department at London Life Insurance, where she remained until 1953, when she married Bob and began working with him at his "Lakeshore Hardware Store" in New Toronto. Bob and Irene loved to dance and were members of the Rambling Squares, a travelling square dance troop. In 1957, Bob and Irene moved to Cooksville and then in 1959 Irene joined the newly opened Queensway General Hospital where she continued to work until retiring in 1981. Upon retiring, Irene & Bob moved to Flesherton, Ontario with the goal of enjoying quiet small-town life. When Bob passed away in 1984, Irene found small-town living too quiet so she returned to city life but never really settled as she moved back and forth between Mississauga and Winnipeg many times as the mood struck her. She was very proud of her bowling skills and actively participated in various leagues until 2005. Irene was a very gutsy woman, always ready for the next great adventure and travelled all over the world with either her sister or one of her many friends. Irene finally settled with her daughter in British Columbia in 2010 where she remained until her passing.
Irene will be lovingly remembered by her remaining family members, including her daughter, Shirley Rhodes of Merritt, BC; her brother Chris Sand of Winnipeg; and sister-in-law, Lois (Savery) Goodwin of Mississauga. She is also survived by her grandchildren who will miss her lively spirit: Mathew Birch of Utah, USA; Scott (Andrea) Rhodes of Kamloops, BC; Christopher Rhodes of Vancouver, BC; Carrie-Jean (Adam) Moy, Keith (Karla) Savery, Chad (Sarah) Savery, Cory Savery, Candice Savery, Crystal (Stephen) Gallant, Kevin (Amy) Savery, Ryan Savery all of Ontario; and John Savery of Saskatchewan; plus seventeen great-grandchildren along with many nieces, nephews, and cousins throughout Ontario, Manitoba, Alberta, and the UK.
At Irene's request she will be buried with her beloved husband Bob in the family plot at Springcreek Cemetery in Mississauga, Ontario at a graveside service to be held at a later date.