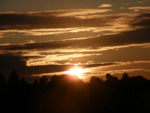 December 18, 1929 – December 14, 2019
at the age of 89 years
In loving memory of Ilse Seiz who on December 14, was again joined with her beloved husband George. Together they carved a Paradise from six acres of rural Ontario wilderness and raised four children. In retirement they moved to Salmon Arm, BC to be closer to their grandchildren and Ilse's siblings. Ilse and George took great pleasure showing the next generation how to work the land, raise animals, and eat like royalty. Till her last day, Ilse kept her sense of humor and dreamt of skiing in the Larch Hills. Her good friends and the staff at The Good Samaritan gave Ilse love and support in her final years. Their compassion and attention were a huge comfort to Ilse and her family.