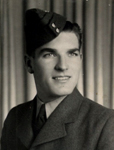 January 8, 1919 – May 17, 2012
at the age of 93 years
Reception:  Saturday, August 11, 2012     2:00 p.m.
Fischer's Funeral Services
Bert passed away peacefully May 17, 2012 in Salmon Arm, B.C. at the age of 93.  Bert was born January 8, 1919, in Vancouver, B.C., the 5th of 7 children born to Herb and Ella Jane Shuttleworth.  He served in World War II with the Canadian Air Force taking time out in 1941 to marry Marjorie Cook.  Following the war, Bert worked for a time in the family business with his dad and brother and eventually became a property assessor working in Surrey,Vancouver andVernon.  He and Marjorie lived for many years in Cloverdale and finally retiring to their summer cottage onShuswapLake.  They briefly lived at Rose Lake in the Cariboo to be near their daughter who was living at 150 Mile House but the Shuswap lured them all back with Marj and Bert settling in Sorrento and their daughter and son-in-law in Blind Bay.
Bert was pre-deceased by his parents, his three sisters – Doris, Vera, and Aileen, his three brothers – Jack, Norm and Bram, and his best friend, Scotty.  He lost his wife, Marjorie, in 2005 after 64 years of marriage.  Bert leaves behind his daughter, Donna and husband, Ken, ofBlindBay, four grandchildren: Don and Lisa (Eric) from Vancouver, Chris fromBlindBay, and James (Kate) fromNorth Carolina.  He loved being "great-gramps" to James' and Kate's children Samantha, Julia and Cooper.  Blessed with a large extended family, he and his sense of humour will also be missed by his many nieces and nephews and their families.
His family gives special thanks to Dr. Kevin Goldberg  for the exceptional care given to Bert during his final years  and to Bertha and Kim at Lakeside Manor which was home for Bert for almost 5 years.  He enjoyed life and this will be celebrated the way he would like it with  food, friends, family and the music he loved.  His memorial reception will be held at 2 PM, August 11, 2012, at Fischer's Funeral Home 4060 – 1st Ave. S.W, , Salmon Arm, B.C.  If you wish, a donation can be made to the Canadian Diabetes Association in Bert's memory.