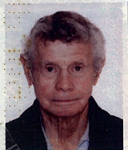 June 1, 1927 – July 26, 2016
at the age of 89 years
Henry was born in Victoria and spent much of his youth there visiting his Icelandic grandparents.  Most of his schooling was in Vancouver, mainly in Kitsilano.
He got is law degree at UBC in 1951 and practised in Vancouver until 1962 when he moved to Salmon Arm.  Henry enjoyed small town life and was happy to have brought his wife, Marguerite and family, George, Chris, Frank and Laurie here.  he was a good man.  His affliction was a lengthy dementia.
There will not be a funeral service.  A gathering commemorative of Henry's life will be held sometime in the near future.  There will be an announcement in this newspaper.