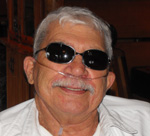 November 4, 1930 – December 22, 2012
at the age of 82 years
Charles (Chuck) Foster Storms, 82, of Kamloops passed away in his home December 22, 2012.
Chuck was born in Peterborough Ontario in 1930.  He lived his adult life in western Canada and lived in the BC interior for over 38 years.
Chuck is survived by his wife Jean Storms; daughter Bonnie and son in-law Bob Schuring, son Daniel Storms, son Benjamin Storms and daughter Carrie and son in-law Steve Prentice; grandchildren Charlene Hird, Julie Hird, Dustin Storms, Jessie Garrison and Jamie Garrison; great grandchild Samantha Hird; and other loving relatives
.
A memorial service will be held in the spring at their family home in Kamloops. Date to be announced.