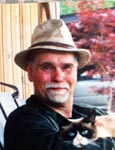 August 6, 1948 – January 23, 2013
at the age of 64 years
Erick David Sundmark of Celista, aged 64, passed away in the peacefulness of his home January 23, 2013. Dave leaves behind his loving wife,Audrey and daughter, Jodi. He is also survived by his father, Erick Sundmark, his brother and sister, Larry Sundmark and  Kathy Castle, and many other relatives and friends.He was predeceased by his mother Katherine Sundmark. At his request there will be no service. Please keep him in your thoughts and prayers.