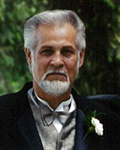 June 23, 1938 – October 29, 2015
at the age of 77 years
It is with heavy hearts that we announce the passing of our beloved husband, father, grandfather and great grandfather after a lengthy illness at Bastion Place in his sleep.
He leaves behind his loving wife Dianne and step children Gord, Tami, Ron & Monti and grandchildren that will miss him terribly Colton, Katie, Shayna, Shawn, Tristan and Chris, his four children Misty, Steven, Tammy and Cindy and many grand children and great grandchildren all from the United States. His many friends around town will also miss him and his "stories" I am sure.
There will be a celebration of his life in the spring or early summer of 2016, in the hopes that family may be able to come. Date to be announced at a later time.
Tony served in the Nay (Canadian) for 28 years and worked at Corrections Canada for over 20 years. He was also Santa Clause in Centenoka Mall for five years and loved it.