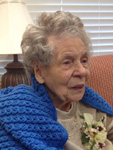 January 27, 1914 – April 18, 2016
at the age of 102 years
A cremation has taken place and a memorial service will be held Saturday, May 14, 2016 at 2:00 p.m. at the First United Church, 721 Bernard Ave., Kelowna, BC. 
Passed away peacefully at Piccadilly Care Home in Salmon Arm, BC, Apr. 18, 2016 at 102 years.
Helena's life began on a rural farm in Scepter, SK, the first born to John and Annabel (Haines).  She was predeceased by her siblings Grace, Ernest and Rolfe, nephew Jimmy and sister in law Phyllis (Rolfe).  Helena has left in awe, her nieces Betty, Bonnie and Donna, nephews Bruce and Guy and next generation of thirty six offspring.  Also saddened are long time friends Lois and Buster Hall and Pearl McKenzie of Kelowna.  She joined the RCAF in 1945 and the Business and Professional Women's Club in 1949.  For 31 years she was an employee of Bennett's Stores and was a tireless supporter and volunteer for the party in the run for premier of WAC and WR Bennett and prized her time spent with their family.
My personal thanks to David Dunn for attending her 100th birthday as it meant so much to her.  Thanks to staff at the care home, Dr. W. Bell and Dr. Swetlikoff for your service over the years.
Memorial donations in Helena's name may be made to the CNIB, PO Box 9410, Stn. Terminal, Vancouver, BC, V6B 9Z9.