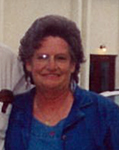 May 19, 1942 – July 16, 2012
at the age of 70 years
It is with the deepest regret that we announce the sudden and totally unexpected passing
of Ileen Verburg at the Shuswap Lake General Hospital. Ileen and Nick Verburg were married in Yuma Arizona and together enjoyed a wonderful life, which included traveling to Arizona and Mexico.
Ileen was an auctioneer in the Yukon and she was an awesome artist. Ileen is survived by her husband Nick Verburg,  adopted daughter Teresa Roberts, step sons Jack Verburg and Dan Verburg and their families. A memorial service will be held at a later date.