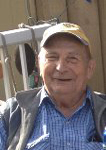 July 29, 1927 – June 6, 2015
at the age of 87 years
A celebration of Norman's life will be held on July 25, 2015 at the Creekside Seniors Hall from 1:00 – 4:00 pm.
Norman Jacob Wendell passed away at the Royal Inland Hospital at the age of 87 surrounded by his family. Norman was born July 29, 1927 in Vernon BC and is predeceased by his parents, Jacob and Rosenna Wendell as well as his two brothers, Jack and Alan Wendell and two sisters Eileen Hamilton & Jeannie DeMarni.  
Norman will be greatly missed by his wife of 62 years, Florence Wendell, his children Gerri & Dennis Herbert, Cindy & Ken Bertrand, James & Joyce Wendell. Grandchildren; Norma Herbert, Kelly & Adriana Herbert, Darcy Faulkner, Miranda & Tyson Kamps, James & Shannon Wendell, Katrina Wendell, Kristopher & Dee Wendell as well as great grandchildren; Michael, Christa, Kelly, Percy, Lieneke. Norman is also survived by his brother Fred Wendell, and two sisters Rosemary Hill, & Irene Gorley. Many numerous nieces, nephews and many dear friends will also miss Norman.  
Norman moved his family east to Alberta to pursue a career in Auto Body mechanics. He followed that career until retiring in the Chase area in 2000.
 Norman enjoyed camping, fishing, whistling and loved stoking the camp fire. He will be fondly remembered for the many "tin men and bird feeders" he made over the years.
Thank you to the medical staff of the ICU step down unit at the Royal Inland Hospital 309S for your care and compassion during his brief illness.
 Should you wish to do so in lieu of flowers donations can made to a charity of your choice in Norman's name.