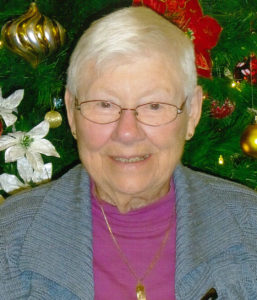 January 25, 1927 – May 4, 2018
at the age of 91 years
A Memorial Tea will be held @ the Elks Hall in Salmon Arm @ 2:00 pm Sat May 12, 2018
Bertha was born to Errol and Elisabeth Hurd in Tisdale, SK, older sister to Lois and Linda. She graduated from Saskatchewan Hospital, Weyburn as a Psychiatric Nurse in 1950. Shortly thereafter, she met Sheldon Brian Whiting whom she married on November 24th, 1952 in Melfort. They had seven children: Jean (Larry), Susan, Shelly (Gord), Colleen, Gary (Cindy), Jerry and Janice (Alex). In 1969 they made the move to BC, settling in Tappen where they built a house and raised their kids, moving into Salmon Arm when all the kids had left home.
Bertha, as most of us know, was an avid baseball fan starting with her boys. She became "the" chauffeur and score keeper. When that wrapped up, she turned to the Toronto Blue Jays. When the ball game started the visiting stopped!
Bertha was a longtime member of the Royal Purple and was very proud of their fundraising endeavours.
Last year for her 90th birthday we had a tea attended by family with a surprise visit of her youngest sister Linda and her husband Wayne and longtime friends from Tappen and Salmon Arm. She was "tickled pink" when a sea of purple jackets arrived; her friends from Royal Purple. She may not have remembered everyone's name but it was a very good day.
As many of you know, mom developed Dementia during the last couple years or more and had problems with language. She was known to rattle off a string of words that didn't make any sense and then look at you and say "Now, you make sense of that!"
Mom you will be forever loved and missed!