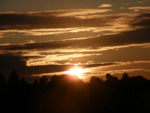 June 29, 1929 – June 14, 2019
at the age of 89 years
Jeannine Dawn Lohff Bannister (nee Malzahn) passed into eternity June 14, 2019, with her loving husband, John, by her side. Jeannine was born June 29, 1929 in Wisconsin, U.S.A. She married her first husband, Robert James Lohff, in June of 1948. Robert and Jeannine had two children, Judith and Robert. Her husband and her son predeceased her in 1977 and 2000 respectively. Jeannine immigrated to Kelowna, B.C., Canada in the spring of 1978, engaged to a Canadian, John Bannister. They were married in June. John, also a widower, had a daughter, Karen Bannister Alikan.
Jeannine leaves to mourn, her husband John, her daughter Judith (Kenneth) Reynolds, her stepdaughter Karen (Nelson) Mathiesen, grandsons Benjamin Reynolds, Derrick and George Alikan, plus great-grandchildren, great-great-grandchildren and a great-great-great granddaughter and nieces and nephews.