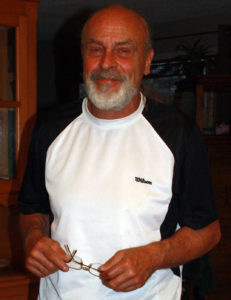 June 10, 1947 – March 11, 2018
at the age of 70 years
It is with great sadness that the family of Garry David Melvin Casselman announce his passing after a brief battle with cancer on March 11, 2018, in Salmon Arm, BC at the age of 70 years.
Garry was born in Medicine Hat, Alberta to Ernest Casselman and Viola (Sturm) on June 10, 1947. It is where he met Janice (Mathieson) and they married in 1965 after a whirlwind courtship. He and Janice ran their own hair salon for many years in Medicine Hat. Garry was a free spirit and once their 2 children were raised, he and Janice settled and built a cabin on their land in the remote community of Seymour Arm on the Shuswap, a place that was dear to his heart. They resided there for 23 years moving closer to Salmon Arm in his final months. Those who knew him realized his great love of family history, of books and of written word. He had a passion for Karate and in the 1980's won an award for a poem he wrote called The Karate Teacher. In the way he lived, he instilled in his children love for animals, nature and the value of taking risks.
Garry leaves behind his devoted wife of 53 years, Janice (Mathieson); his son Ernest (Pauline) of Dawson Creek, BC; daughter Selena (Trent) of Nelson, BC; and grandsons Gordon, Kalen and Skye. He also leaves behind his sisters Shirley (Al) Cowling of Medicine Hat, Alberta and Rose Lessard of Kelowna, B.C. as well as nieces and nephews. He was preceded in death by his parents Ernest and Viola.
A heartfelt thank you to Dr. McKee, Dr. Main and Dr. Keith Hepburn and gratitude to Diane Barr and the palliative care team in Salmon Arm for helping Garry to remain at home in his final days.
As he wished there will be no funeral service. Cremation has taken place and plans will be made for a celebration of life in Medicine Hat, Alberta to be held in the summer.