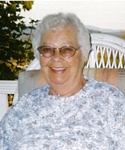 October 4, 1925 – June 29, 2016
at the age of 90 years
Celebration of Life, Saturday, Sept. 17, 2016, 12:30 pm, 5th Avenue Seniors Activity Centre, Salmon Arm
It is with deep sadness that we announce the passing of a loving wife and mother Ruth Edwards nee (Cederholm). Born in Saskatchewan on October 4, 1925 to Anna and Arvid Cederholm, she lived her early years in Avola B.C. with her ten brothers and sisters, Alice, Edmond, Edith, Wilbur, Evelyn, Raymond, Spencer (Spike), Roy, Kenneth and Donna. She talked about her life in Avola with fond memories. She eventually moved to New Westminster and shared an apartment with her sister Edith until she met and married William (Bill) Edwards on September 4, 1953. They settled in Surrey BC and started a new life together with their four children and many friends and family.
Upon retirement they moved to Salmon Arm BC and spent many years doing what she loved golfing and camping in the spring, summer and fall and her bowling and card playing in the winter. She had a great long life and we will miss her dearly. She is survived by one remaining sibling her sister, Donna Orser, her husband Bill, her daughters Wilma (Debbie), Wendy and Billie (Layne) and her son Mark, her seven grandchildren Wayne, Nikki, Chris, Lisa, Mike, Darcie and Reese, her nine great grandchildren, Ashley, Kyle, MacKenzie, Brett, Grace,  Gabe, Axton, Austin and Emma and her great great grandson Ryder.
Mom was able to pass away peacefully only with the help of the nurses and care aides of the Piccadilly Care Centre, the dedication and special care they had for her was amazing. A special thank you to all the staff, but especially those on mom's floor the care you gave her was truly special.
There will be Celebration of Life to be held in the fall for family and friends to share their memories.