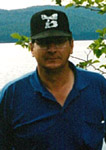 December 22, 1944 – October 25, 2013
at the age of 68 years
At the age of 68 years, after a lengthy illness, Les passed away peacefully surrounded by family at Shuswap Lake General Hospital.
Born in Camrose, Alberta, he was the youngest of seven children born to Charlie and Viola Erickson.
Later, the family moved to Fort Assiniboine, Alberta, where he went to school then went on to work in the oil fields.  In 1963 he came to BC doing road construction work then on to drilling and blasting.  In 1967, Les joined the Rock and Tunnel Workers Union Local 168 and worked in many areas of BC.  He continued this kind of work until he was severely injured in 2007 in northern BC.
Les was predeceased by two sisters, Esther Baumle and Dorothy Stockman.  He is survived and will be missed by his loving wife Elsie and step children and grandchildren and by his siblings Stanley (Joan) Erickson of Daysland, AB, Clarence Erickson of Barrhead, AB, James (Elaine) Erickson of Sicamous, BC and Shiela (Nick) Komisar of Winfield, BC as well as many nieces and nephews.
The family would like to thank the staff at ShuswapLakeGeneralHospital for making his last days comfortable.
There will be no formal service by request.