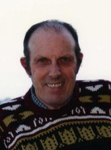 September 4, 1930 – April 22, 2014
at the age of 83 years
With great sadness and heavy hearts, we say goodbye to our dear husband, father, grandfather and great-grandfather, Vic Gammer. He passed away peacefully on April 22, 2014 with his loving wife Carol by his side.
Born and raised in Vancouver, Vic completed a four year apprenticeship in Modern Store Interiors in 1949. He went on to work in various capacities including construction foreman at Hullah Construction, and overseeing the building of the British American Oil plant in Burnaby in 1956. Vic retired in 1975 as Construction Maintenance Superintendent with Kelly Douglas and Company.
Vic had a strong passion for life. He loved traveling, dancing, and spending time with his family. He really enjoyed playing board games and cards, and excelled at many hobbies, including wood working and carving, stained glass work, and building and operating remote-control boats and airplanes. His favorite hobby was raising and exhibiting show canaries, which he began at the age of 11 and enjoyed through to his 77th year.
Vic will be lovingly remembered by his children, Victor Jr., Sheila (Russ), Greg (Cheryl), step-children Sylvia (Norm), Gary, and Matthew (Bertha), grandchildren Kelsey, Rodney, Bryceson, Aaron, Emily, Elena and Matthew, and great-grandchildren Isabella, Cynthia and Ashlynn.
A life well loved and will lived, Vic will be missed for his kind and generous heart by all who knew him. He will be forever in our hearts.
The family will celebrate Vic's life with a private gathering. In lieu of flowers, please consider donations in memory of Vic to the Marjorie Willoughby Snowden Memorial Hospice, Kamloops.